Chairman's Message
I take this opportunity to thank all the shareholders for the confidence, positive response towards us and in supporting us to achieve greater heights in our performance.
The prosperity of our members is the ultimate aim to our success.
Financial Landmarks of the Bank (as on 31 March 2021)
Net Profit stood at Rs. 1.03 crore in FY 2020-21
The Profit of the Bank before tax Rs. 3.79 crore in FY 2020-21
Bank's Deposits is Rs.831.02 Crore in FY 2020-21
Bank's Advances is Rs.357.90  in FY 2020-21
The CD ratio of the bank is 43.06 %.
The Capital adequacy Ratio is 17.56%
Our Values & Principles
The Citizens Urban Co-operative Bank Ltd. since its inception in 1989, has embraced certain values and principles and come what may, won't deviate from them.
Photo Gallery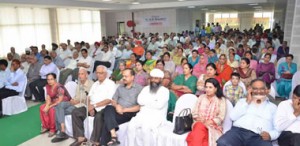 Vision
To promote a sound, strong & vibrant co-operative credit structure embedded with latest technology & computerisation, providing innovative and affordable banking products.
Mission
To develop a range of quality services for creating value for customers, shareholders and the society.